Competitions, events for parents, puzzle rooms, workshops, speakers, classroom activities, outdoor games and trips are just some of the ways your school can celebrate Maths Week Scotland.
Online resources are all available year round and many workshops are bookable throughout the academic year.
Out and about
Across Scotland there are plenty of opportunities for your school to get out and about with maths.

National Museums Scotland
Find out about the different types of renewable energy sources used in Scotland in Renewable Energy: Power House, a hands-on STEM session for P5–7 pupils. Follow up in class with the maths focused teachers resource.
Sessions run throughout the academic year.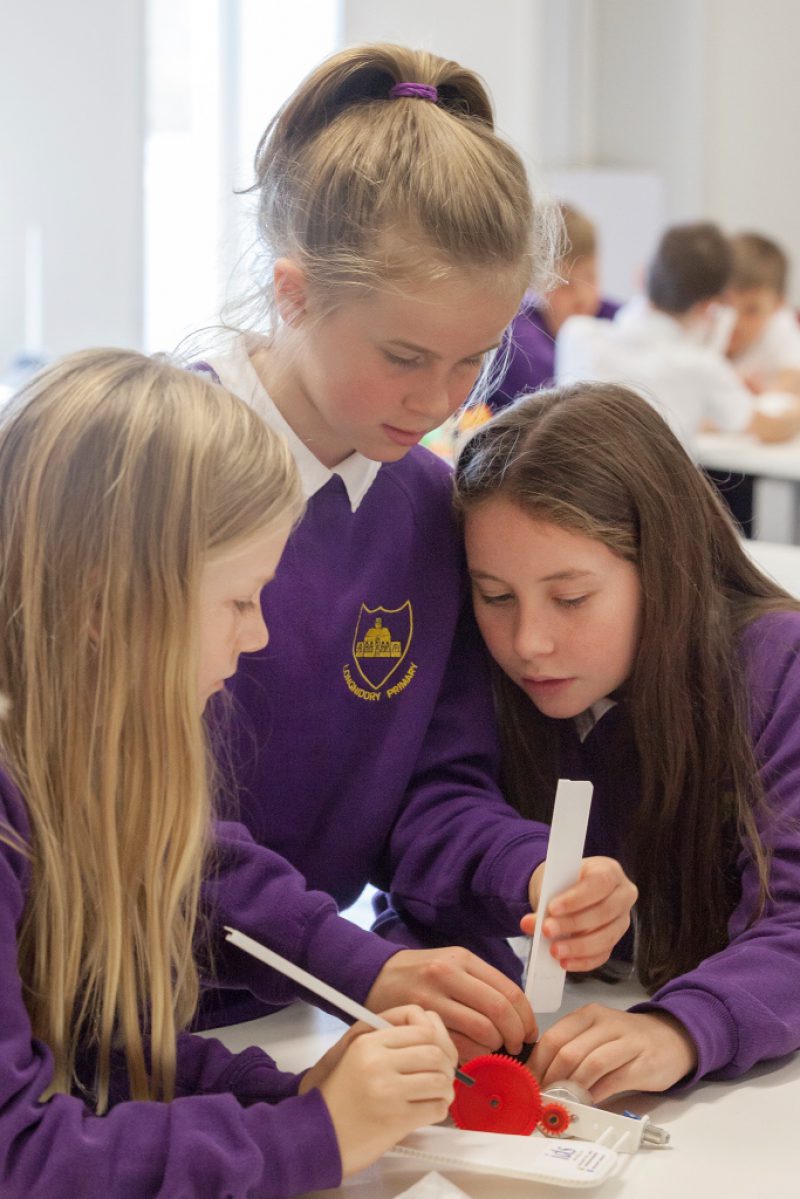 Castle Quest at Edinburgh Castle
How did maths build the castle? How did the radius of a circle help people survive a seige?
Explore Edinburgh Castle through maths in this cross-curricular trail and accompanying teachers notes. This is a downloadable self-led trail.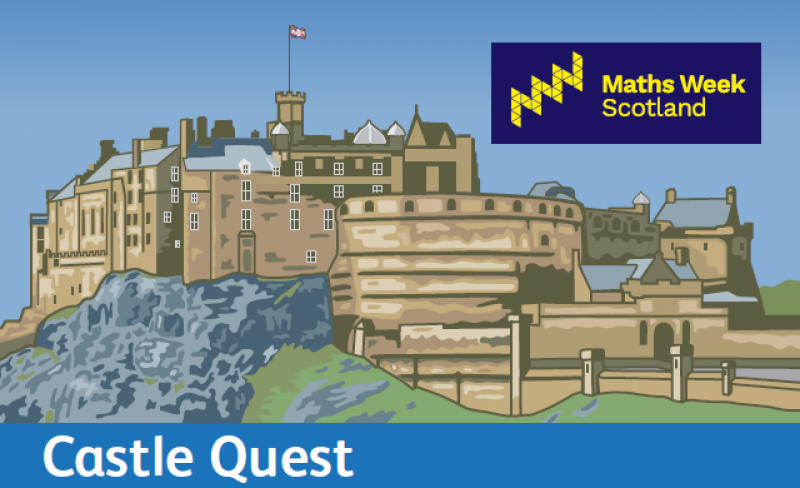 Produced by National Museums Scotland, Historic Environment Scotland and The Regimental Museums in Edinburgh Castle
Royal Botanic Garden, Edinburgh

How many plants? What is the percentage cover of grass? How tall is the tree? How much shade is there?
Help our Horticulturalists find the answers. Collect your own data, record observations and solve mathematical problems with practical hands-on activities in the stimulating environment of the RBGE. Sessions are suitable for P1 - P7 and can be booked throughout the year. Call 0131 248 2937 (option 2) to book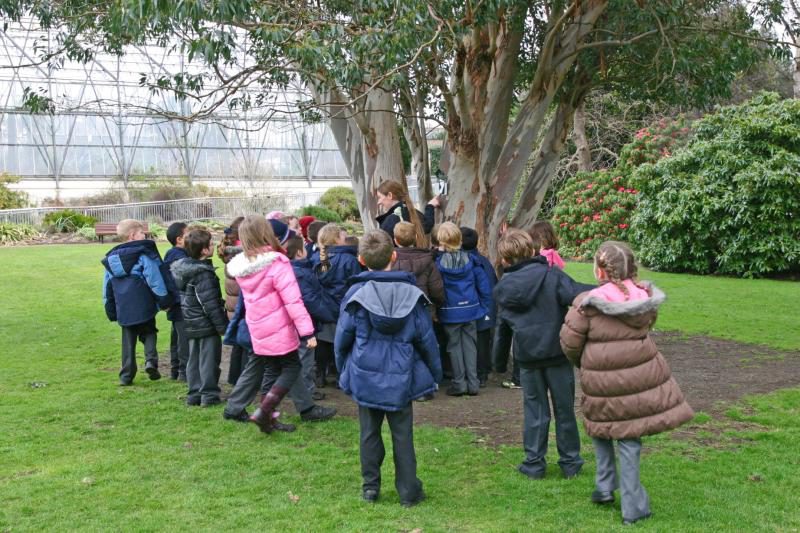 In school
If you prefer your home comforts, there are plenty of ways to bring Maths Week Scotland into your school.
Maths Ceilidh
How can we use music and dance to explore mathematical concepts? We teamed up with Science Ceilidh to create a selection of resources to use in school. You do not need to be a maths or ceilidh expert! Each resource comes with music and easy to follow instructions.

Maths Week Scotland Challenges
Put your skills to the test in our Maths Week Scotland challenges. From photography to puzzles there is something for Early Years right up to S6!
Entry may be closed but your class can still have a go in school!
STEM Ambassadors
Give your class a unique insight into how maths is used in a huge range of careers with a visit from a STEM Amassador.
University of Edinburgh Strategy Games
Use strategy games and transport network to explore maths in the classroom.
These resources will be aimed at P5-S3 pupils and look to develop mathematical thinking and problem solving skills. They will include videos, puzzles catering different abilities, and teacher tips and advice.
Find the them here from mid-September
Royal Institution
Soap bubbles, paper folding, computers and bridges are all inspiration for these Primary School activity ideas from the Royal Institution. Explore maths in the classroom, around the school or out and about with your class.
Here is what just a few schools got up in previous years. If you have something to share, let us know!
Disaster Relief Day
Disaster Relief day challenged students from Kilchrenan Primary, Achaleven Primary and Barcaldine Primary to work against the clock on a series of activities themed around an international disaster relief rescue mission. Although presented as a fictional scenario a sense of urgency and drama was created with authentic posters, presentation of activities and timed events.
Pupils used numeracy, reasoning, creative and social skills to solve problems including Designing a Rescue Vehicle, Moving Supplies, Recording a TV Appeal and Loading Planes.
"The children were able to achieve a challenge using 'their' maths. They had fun doing it. They saw it fit into the world in new ways, real ways. What was wonderful was to see maths achievement on the faces of the children, that came from the knowledge that they had 'done it' with maths!"
Funding for transport for the schools and materials were from the Maths Week Scotland Small Grants Fund. Content for the day developed by school staff.
Enigma machine
Secondary schools in Angus all got to experience a real enigma machine with a visit from the Bletchley Park Team. They got hands on with cracking codes, and inspired by stories of the role of mathematicians in the Second World War.
Mr Peter Todd organised the week of workshops and talks with all secondary schools in the area, with funding from the Scottish Government and the Edinburgh Mathematical Society.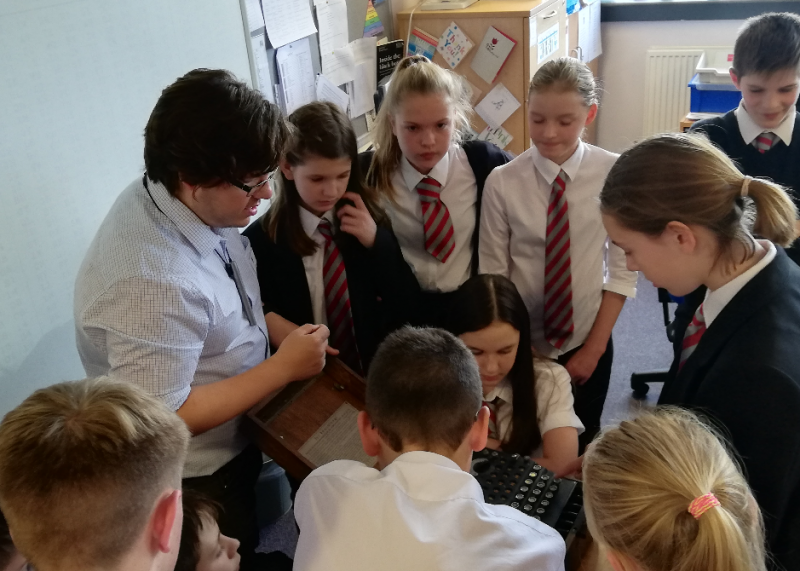 "The impact from the visit has been huge. Every time Thomas went to a school there was a queue of teachers waiting to see the Enigma machine. How often do students get to see teachers genuinely enthused and interested about something in the school? I think the event had a massive impact on student interest in Mathematics and in particular codebreaking."
Maths in...

Maths Week Scotland had a different theme each day in these schools, with Maths in Art and Maths in ICT kicking off the week!
It wasn't just for the pupils though. Parents got messy baking treats midweek, using maths to measure and weight their way to Rocky Road success. The week ended with Maths Outside and cross-year group challenges using natural materials and shapes in nature.
Pupils really enjoyed finding maths everywhere and great fun exploring maths.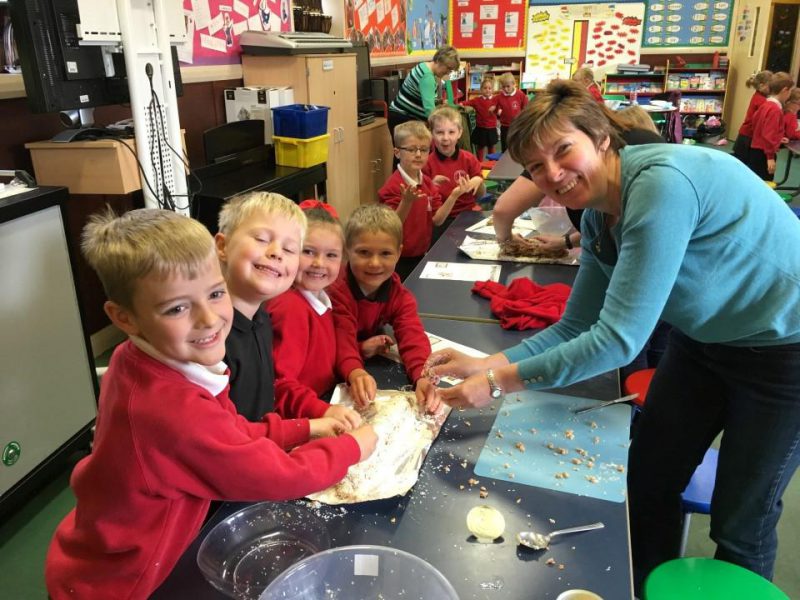 Beautiful Maths
Schools across Scotland explored and created beautiful maths, like this sierpinski pyramid by Woodfarm High School
If you would like more info on any of these activities contact info@mathsweek.scot
Small Grants Fund
Apply for funds to run activities in your school, transport your pupils to a Maths Day Out or anything else you need to help make your Maths Week Scotland a success.
Small Grants Fund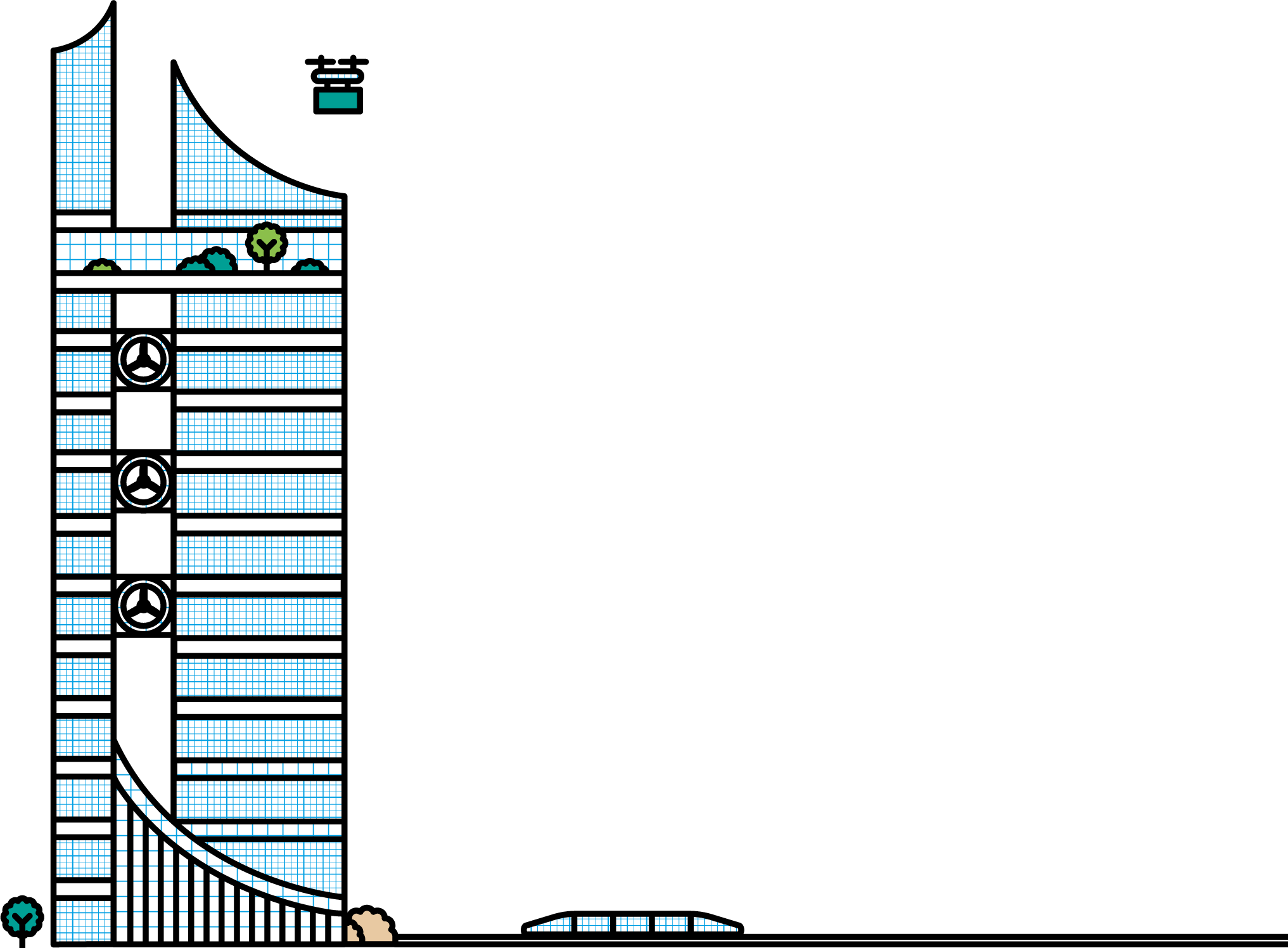 Classroom Resources
Find and share things to do with your class for Maths Week Scotland and all year round on GLOW.
Glow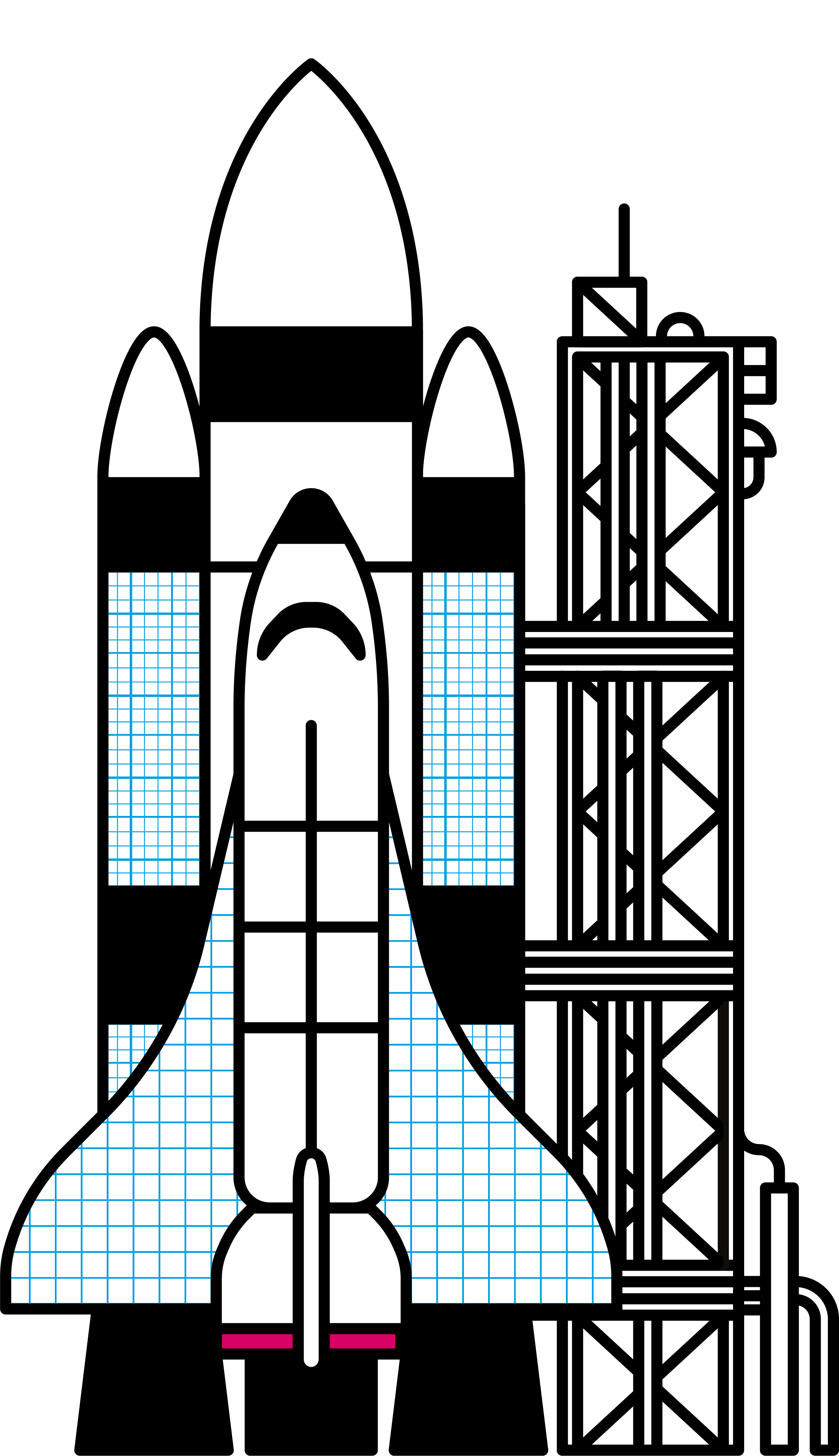 Latest News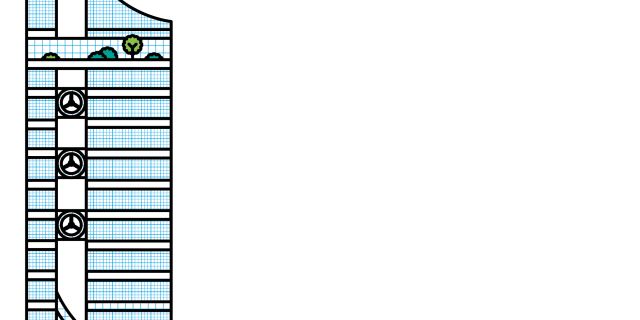 COVID-19 Update
In response to the impact of COVID-19 (Coronavirus) we have cancelled face-to-face events for the next few months. We will be reviewing the impact of COVID-19 on future events including Maths Week Scotland 2020 regularly and updating this page.
View details